As Arkwright would say
it's been a funny old day
starting with the little Medilink bus not turning up that takes me from the car park up to the hospital where I work. There had been an accident and the buses were unable to get through. Having stood around for 40 minutes before this information filtered through myself and another lady decided we would walk. Now don't get me wrong I am not opposed to walking, well you can't be when you have three dogs, and as the children would tell you we walked everywhere when they were little if the sun was out. But as I keep telling them I was in my mid 20's to 30's then and not in my 50's as I am now. I was surprised that it only took us about 20 minutes thus proving that I am not quite as unfit as I thought. But I was certainly ready for a cup of tea by the time I got through the office door.
Whenever we've had a lot of rain we
always seem to get a lot of toadstools around the garden. I have to say I love them. I used to tell my children that they were the pixie and fairy houses when they were small. These little beauties were all over my next door neighbours front lawn.
We don't always get a good mobile signal in the cottage and I always tell people that I have to go down to the bottom of the garden with fairies in order to get a signal. .
I hope you all managed to get through the storm unscathed yesterday. It seemed to hit mainly the south of the country. We had been forewarned that it would be coming our way as we are on the Lincolnshire/Norfolk border and although the wind was whipping around the cottage at around 4.30am and it lashed down with rain it was nothing we haven't experienced before so I think all told we got off pretty likely, having seen the news last night. When the big storm of 87 happened I was expecting my eldest son and I had slept through the whole thing and was quite surprised when I switched on the news the following morning.
We've had some pretty impressive rainbows about recently, usually when I haven't got my camera to hand, I missed an absolute beauty that was a complete rainbow so I was really quite cross with myself. I have been making a baby blanket for a colleague who is expecting her first baby and has chosen not to know whether it is a boy or girl, which is lovely but makes choosing a colour a little challenging unless you go for the traditional, white, cream, lemon or green. This photo doesn't show the colours off very well but it is all the colours of the rainbow and therefore will befit a little prince or princess when they arrive. I made it with Jarol New Arrival Random 100% Acrylic produced by Woolcraft and the colour is 305 Angelica.
As you will know from my previous post I have a son who is now out in Afghanistan and I wanted to do something to mark the time he will be out on tour. I couldn't see me keeping up with marking days off a calender so having seen mentioned on other blogs about a square a day I decided that I would make a
'Coming Home from Afghanistan Afghan'.
I am working with three colours using Faircroft Junior 500G DK again produced by Woolcraft and the colours are 030 White, 7134 Airforce Blue and 132 Cardinal to represent the colurs of the RAF. I took this photograph on Sunday when we were at Day 13 I have now completed Day 15 this morning. By the time he finishes his tour he will have been away some 200+ days so still quite a long way to go. It may well be big enough to cover a single bed by then. I am still considering what combination to go with but I quite like the one above but I still have time to decide.
In the meantime I am still making my poppies, I have made 5 so far and my target is 10.
When I'm not making squares for my Coming Home blanket I am still making my Autumn Leaves squares.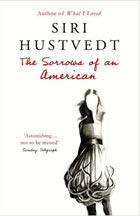 On the reading front I am just about to finish Siri Hustvedt's
The Sorrow of an American
It's been a funny little book but I will tell you more about it when I have finished it.
Meanwhile I hope you all have a good & productive crafty week.